University of Washington- Kristi Kingma
1st December, 2011
After every game I am required to ice bath. On my team it is mandatory to ice bath immediately following a game if we played 20 minutes or more. Trying to describe an ice bath is a little bit like trying to describe what drinking a strawberry smoothie on the beach in Hawaii is like. Basically, words don't do an ice bath justice.
After games I head to the locker room, change out of my jersey and shower. Showering before getting into the ice bath, in my opinion, is just as important as any part of the ice bath "process." Athletes from all sports use and share the same whirlpool and as much as I don't want to sit in an ice bath that is sweaty because of my teammates, I sure as heck don't want to sit in an ice bath that is sweaty because of some of our football players. (I hope you catch my drift.) Anyways, after a quick shower, I make the long walk to the training room.
I have been described by my teammates as the team's "tough ice-bather." I have earned this name by being the one person who doesn't wear booties and I just jump right in. Booties, for those of you who don't know, are water-resistant shoes that you can wear in the ice bath to make the water not feel as cold. I think booties are for weaklings. In my opinion, if you're going to ice bath you might as well just suck it up and jump in without booties. I make sure to tell my teammates what I think of booties every time they use them, too.
As I said earlier, I just jump right in. Initially my body feels like I jumped into a pile of needles. It's cold and it burns and it absolutely sucks but I'd rather just get it over with than inch my way in and prolong the burn like my teammates do. In addition to my method of just jumping right in, some of my teammates choose the method of inching their way in to get their body acclimated to the change in temperature. Along with those two methods, some of my teammates do the "fake ice bath" method by getting in for two or three minutes before declaring "It's too cold and my legs are going to fall off!" This method always goes over REALLY well with my coach.
[+] Enlarge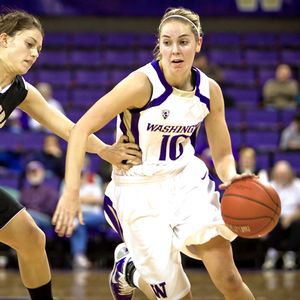 Courtesy of UW AthleticsKristi Kingma in action against Western Michigan earlier this season.
There is one more reason why I don't enjoy ice bathing: once I ice bath I stay cold all day. I stay cold walking to my car, eating dinner at my house and even during church that ends around 10:30 p.m. I can shower, sit in front of the heater or wear my warmest sweat pants but my legs stay cold. The cold can really be an inconvenience, especially in Seattle when trying to stay warm is hard enough. It probably also doesn't help that Slurpees are my drink of choice on a nightly basis. Oops.
As much as taking an ice bath hurts, its rewards beat out the pain. Taking an ice bath allows my legs to feel fully recovered within 24 hours, which is crucial when we play two games in three days. Ice baths also help reduce any swelling my knees start to show after games because of the time I spend diving onto the floor and inflicting myself with pain. Plus, it mentally helps me because I feel renewed and fresh whether my legs actually feel that way or not. It is the little things like taking ice baths that allow me to be able to play extended minutes at a high level. It also can help prevent injuries and keep me healthy over the course of our long season.